Who hasn't dreamed of spending the summer in Greece? Central Greece as well as the Greek Islands are among the favourite destinations for Greeks and international tourists. Thanks to its beauty and natural charm attract thousands of people not only to spend one of the best summer holidays that you could ever imagined but also to take up residence in the Hellenic country.
Greece is a paradise from north to south that won't disappoint anybody. Maybe spending just a summer holiday in Greece will be enough to decide to buy a second residence in this country of great contrasts.
Below you will find a selection of exclusive properties for sale in Greece with our member Ploumis Sotiropoulos Real Estate.
Corfu, a dreamy island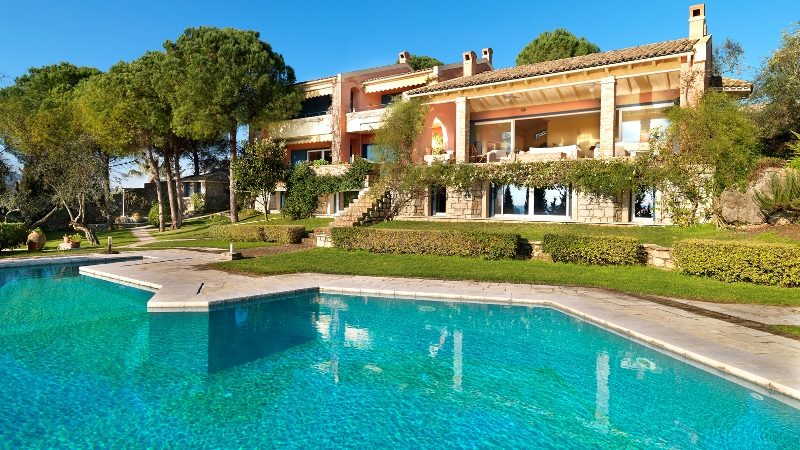 In the second largest Greek island of the Ionian Sea, only 10 kilometres from the centre of Corfú is located this luxurious villa offering direct sea views. Its 750m2 are arranged over three levels with generous-size living areas, 8 bedrooms, three kitchens and a library. Several terraces perfect for relaxing and admiring the sea complete the house. The infinity pool is the centrepiece of this villa with open panoramic views of the sea.
In the immediate vicinity you will find the exclusive marina of Gouvia, perfect for water sports lovers.
Porto Heli, the Riviera of the Peloponese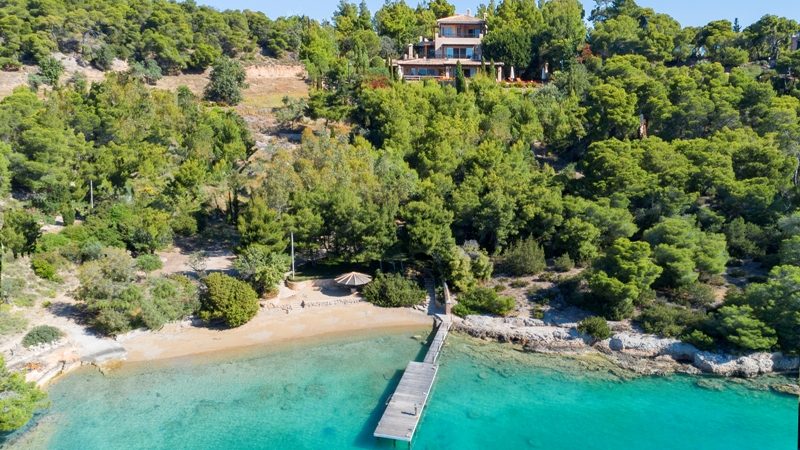 Everything you can imagine is gathered in this property located in Porto Heli. The true gem of this Mediterranean style villa is, without any doubt, its direct access to a private sandy beach with mooring. It boasts several outdoor chill-out areas crown with an impressive swimming pool with views. It includes additional accommodation for guests and staff, as well as fitness area and cinema, among others.
Nikki Beach, the crème de la crème among beach clubs is located within close proximity by boat, as well as exclusives restaurants situated in the Marina.
The perfect hideaway in Kefalonia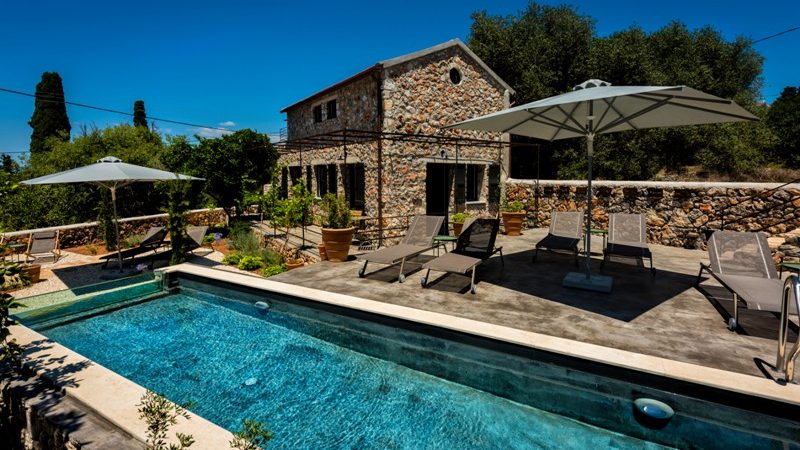 Within close proximity to the picturesque town of Fiscardo, in the island of Kefalonia, is found this traditional style house surrounded by Mediterranean vegetation, that can be used either as a family residence or as an investment as a small hotel. Its location close to Fiscardo is a plus, unique thanks to its colourful houses, Venetian style buildings and typical restaurants that make you stay pleasant in tandem with tranquil. This house has preserved classic elements of its architecture and has integrated modern facilities such as a swimming pool with a glass side forms in order to give an artistic flow to the space. A lovely residence in a privileged enclave.
Greece, vacations and culture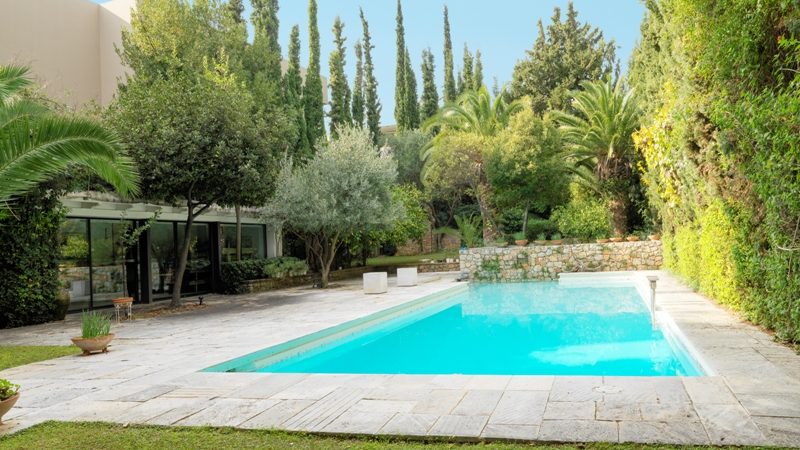 If you would like to spend your holidays or live in a place which offers both things, culture and vacations, Athens doubtlessly is you destination.
On the outskirts of the Hellenic capital is found this villa in an elegant aristocratic neighbourhood. Large spaces, several lounge areas, additional accommodation, terraces and a lovely swimming pool surrounded by terraces form this property. Its 774m2 sit on a landscaped plot of more than 2,000m2. It is treasure nestled in the middle of nature that provides a private atmosphere but only 15 minutes from the city centre. Elegance and simplicity are the two concepts that best define this villa.
If you want to know the capital of Greece, as well as find out about the history and culture, this is the house you are looking for.
These are some of the exclusive properties of Ploumis Sotiropoulos Real Estate portfolio. For further information about any of them or if you are looking properties for sale in other Greek destinations visit our website, we will be glad to assist you in your search.