Located in Alvalade, a tranquil residential and private neighbourhood that is characterised by green spaces, a slow lifestyle, fantastic boulevards and an excellent connection with the rest of the city of Lisbon is found this property. The residential area where is located offers a good lifestyle providing plenty of restaurants, cafés and all kinds of facilities.
This exclusive villa that we have the pleasure to present you this week, belongs to the portfolio of our member Silfiducia. Yet close to the city centre of Lisbon, this property offers its residents the opportunity to live in a quiet and safe location. Alvalade is perfectly placed in central Lisbon and families will benefit from all that this historic city has to offer.
Elegance meets design
It is arranged over six floors spanning over 825m2 comprising of an entrance hall, a guest bathroom, a kitchen with top-end appliances and a dining area, a large dining room with capacity for accommodating 14 people, an additional room and a living room with a balcony.
There is also a lounge separated with different ambiences which also enjoys fabulous views of the garden. The decoration is as impressive as the house itself blending in harmony with the style of that of the property.
The sleeping quarters are comprised of three elegant suites equipped with closets, there are also two additional rooms and a guest bathroom.
One of the highlights of this property for sale in Lisbon is the glazed inner garden located on the lounge which represents a beautiful space providing plenty of natural light.
Extras includes a garage with capacity for six vehicles, two bedrooms for the staff with a shared bathroom, a wonderful indoor swimming pool with a chill-out area and a Jacuzzi.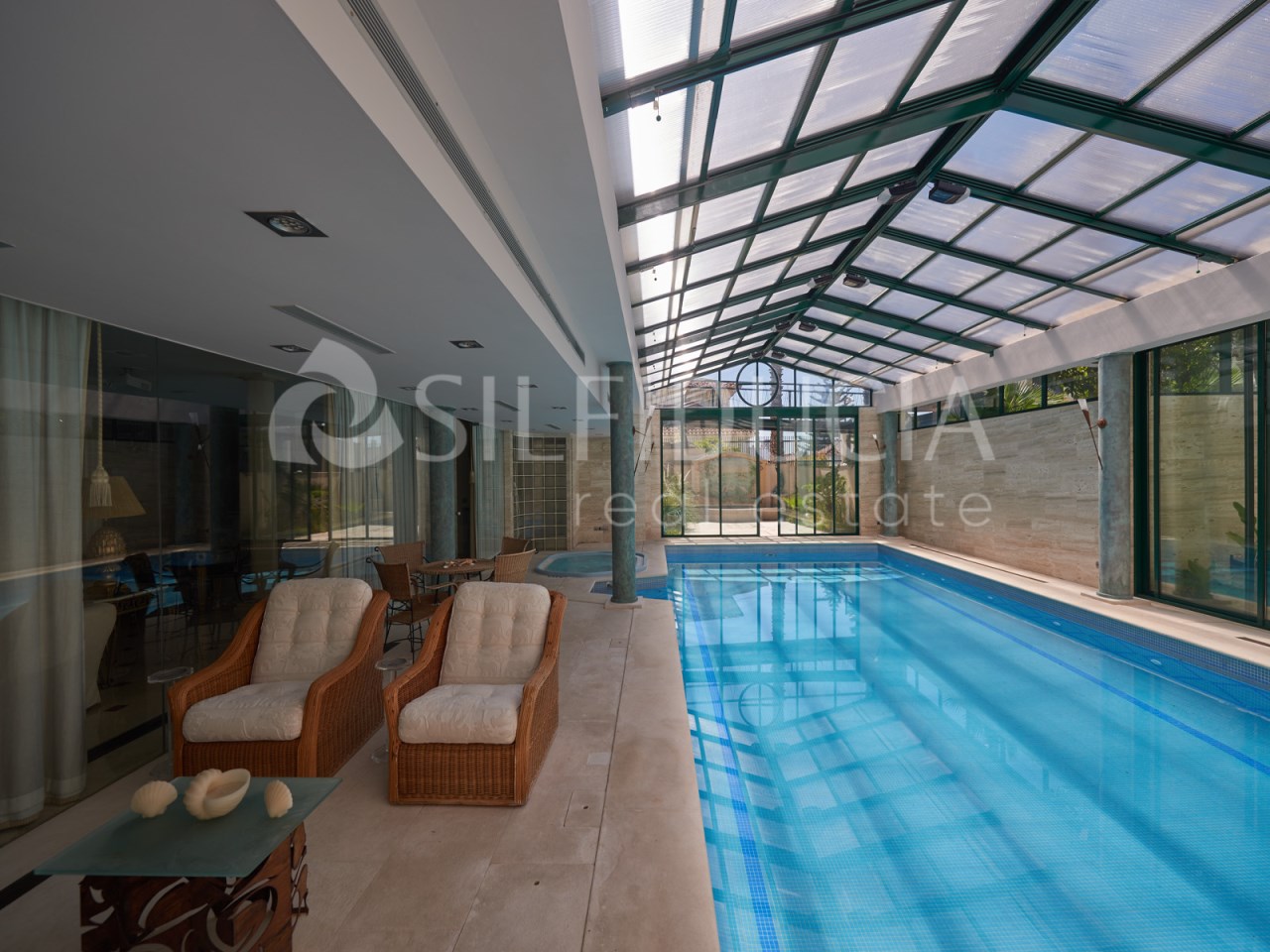 Additional benefits are the lift that connects all the floors, a dumbwaiter, a snooker table and a Turkish bath cabin.
If you would like to buy a house in Lisbon, Portugal, in a tranquil district near the city centre, visit the listing of properties of our member Silfiducia. They will be glad to assist you.